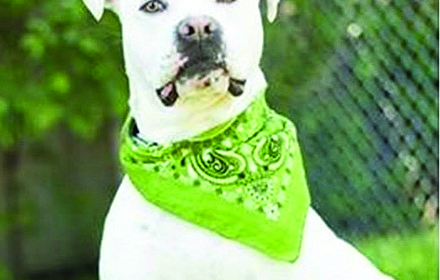 Rufus means "cool" and "awesome," and that's the perfect name for our dog of the week. Rufus is a 3-year-old neutered male pit bull mix. He is happy, silly and goofy. He loves to run, and he walks very nicely on a leash. He would do best as the only pet with older children. He's very trainable — he already knows sit, and he's eager to learn more. If you'd like to be his teacher, call the CNYSPCA at 454-4479 and meet the wonderful Rufus!
June 29, 2015
Syracuse Parent stories

As you enjoy some fun in the sun this Fourth of July, it's important to protect your body's largest organ: the skin.

The Patience Project seeks homes for longtime shelter dogs
No one had even looked at Duke for more than a year. The 3-year-old Rottweiler-shepherd mix had sat in the kennels at CNY Veterinary Services in Clay since he was 6 months old. His chances for adoption looked grim. Then Duke's photo was featured on Facebook on a page dedicated to dogs like him who have spent months or even years in shelters. The Patience Project's picture was shared on one page after another and ultimately made its way to Gerry Ioannone in Rochester.

If you're looking for a little light in your life, call the CNY SPCA at 454-4479 and ask about Sampson.
Spring is finally here and summer is just around the corner bringing longer days, warmer weather and, unfortunately, tick bites. With a number of tick bite cases already being seen across all of Five Star Urgent Care's Upstate New York facilities, transmission of tick-borne illnesses such as Lyme and Powassan, are becoming a concern. The best means of handling tick-borne infections is through preventing a tick bite from happening in the first place.

Aspen is a beautiful 2-year-old chocolate lab mix.

Athena is a canine goddess and she's looking for love!

Miss Maizey is a mini-bull terrier. Though small in stature, she's big in personality and will steal your heart.

John is looking for a home! This handsome boy is an adult, medium-energy pit bull mix. He is a Canine Ambassador and has honorably represented the shelter at many events. He's a fantastic dog — he loves everyone, is good on a leash, great in the car and very gentle with children. He's a shelter favorite, but he's ready to have a home. Once you meet this brindle beauty, you'll see what a special dog he is. Call the CNYSPCA at 454-4479 and ask about John.

About 80 percent of new moms experience the so-called "baby blues" after childbirth, which commonly include mood swings and crying spells that fade quickly. But one in seven women experience symptoms of postpartum depression (PPD).

If you're looking for a dog who's trainable, lovable and eager to please, call the CNYSPCA at 454-4479, and ask about Cleo.

Bud wants to be your new best friend. He's a mystery dog. Is he a terrier mix? A lab mix? Nobody knows for sure.