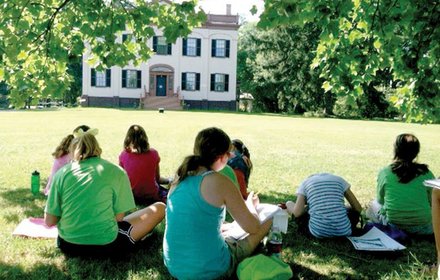 One week of artistic exploration and one of scientific exploration being offered
Lorenzo's annual Rippleton Schoolhouse summer camp, where boys and girls ages eight through 12 experience a week of 19th century school days, is expanding to two weeks this year with one week focused on artistic creations and one week on scientific exploration. The camp will run two non-consecutive weeks, one at the beginning and one at the end of July.
May 20, 2013
Syracuse Parent stories
Editors at Eagle Newspapers were honored for their work at two recent awards ceremonies that celebrate the best journalism in Central New York and statewide.
It is estimated by the Centers for Disease Control and Prevention that autism has risen to one in every 88 births in the United States. In order to raise awareness about the programs and services available to families affected by autism, the New York State Senate has commemorated April 2013 as Autism Awareness Month.

Up-and-comers in the Central New York music scene will compete for prizes as well as the coveted title of "Best Band" this weekend, and they'll support a good cause at the same time. Stand Against Suicide will host its inaugural Battle of the Bands on Saturday, April 20, at the SRC Arena at Onondaga Community College. Doors open at 11 a.m. and bands begin competing at noon. Tickets are $7 for students and $12 for adults. Eighteen bands will compete for a chance at the title as well as prizes.

McNamara Elementary School in the Baldwinsville Central School District has announced the winners of its anti-bullying poster contest.

The Youth Group at St. Mark's Lutheran Church in Baldwinsville recently helped pack meals to be donated to Kids Care, An Outreach, Inc., that were distributed to local food pantries in the Syracuse area. The youth packed 3,400 meals during the event, which will help feed 20,832 people.

Keep the Ball Rolling has announced the Baldwinsville Teachers' Association will continue its generous support of the all-night alcohol/drug-free celebration that takes place immediately following Baker High School's Senior Ball.

Twenty-nine students from eight Baldwinsville schools participated in the seventh annual Optimist Foul Shooting Contest held Saturday, March 9, at Baker High School.
To the baby I will never know: When I found out I was pregnant on Valentine's Day, I was over the moon. I've wanted you for so long, a little niblet to complete our family. Your dad and I couldn't wait to meet you. And you were due right around my birthday; you could have been the third generation born on Oct. 23.

When Caryn Daher's son, Jon, was little, he was into everything — even more than the average toddler. "He was… constantly bumping and crashing into things and people and seeking-jumping type activities," said Daher, a Cicero resident. "He had difficulty in regulating and responding to movement activities appropriately. It went far beyond a 'busy' toddler." In addition, Jon struggled with a variety of sounds, often withdrawing or avoiding certain situations because of the noise level. He had higher-than-average sensitivities to food, temperature and touch. In addition, his speech was delayed. It was that delay that led to help for his other issues. Through his speech therapist, Jon was diagnosed with Sensory Processing Disorder.

Michael Corsoneti, a student at Elden Elementary School, gets ready to head the soccer ball thrown to him by Nate Bourdeau, a member of the Syracuse Silver Knights indoor pro-soccer team.

The Baldwinsville Optimist Club will hold its seventh annual basketball foul shooting contest from 10 a.m. to noon Saturday, March 9, in the Baker High School large gym.