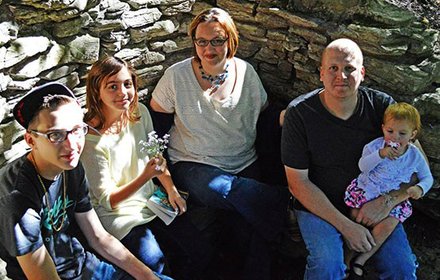 A childhood friend of the woman killed Sunday afternoon on Route 57 has launched a fundraiser to help her family pay their medical expenses and funeral costs.
November 25, 2013
Syracuse Parent stories

Amanda Hebblethwaite was literally woken from a sound sleep one night by a drive to help others. "I woke up in the middle of the night one night and thought about how awful it would be not to be able to have your parents be able to give you gifts for Christmas," Hebblethwaite said. "The next morning I talked to my mom about it, and she suggested I start a donation drive for some place like the Rescue Mission." Hebblethwaite ended doing just that. The Liverpool High School junior is conducting a toy drive for the Rescue Mission, collecting new and gently used toys for children in need.

For 15 years, Terri and Vince Cook thought they had a daughter. But as they watched their child change from the vibrant, happy kid they'd always known to a withdrawn, depressed and ultimately suicidal teen, they knew something was very wrong. "We'd been through the hard teenage years with [our older son], and we'd seen this," Terri Cook said. "This was different. This was someone who was just struggling and nobody could figure out why." It took years of turmoil before the Cooks could determine the root of the problem: Drew Cook was transgender, which meant that although he was physically female, he identified mentally and emotionally as a male.
When you hear about problems on college campuses, you tend to think of binge drinking, budget cuts or fraternity hazing. But one of the biggest problems these days is hunger. A growing population of college students is struggling to make ends meet, unable to make tuition payments and pay for meals. There's no comprehensive data available, but a City University of New York survey found that "39 percent [of students] had either gone hungry for lack of money, skipped meals, or been unable to afford balanced meals" in 2009. In order to help its students through the struggle, Onondaga Community College has joined a number of colleges nationwide in starting a food pantry.

The smell of Laurie Farrell's daughter is starting to fade from the box of mementos she brought home from the hospital five years ago. The contents of the hand-painted box — a Beanie Baby, a receiving blanket, a small knitted cap, a crocheted blanket, a tiny gold ring and a bracelet — is all Farrell has left of her little girl. Emily was stillborn in November of 2008. "These are things she wore, and these are amazing mementos for me as a parent," said Farrell, of Onondaga Hill. "Every year when I open it up on the anniversary date, I can still smell her."

On Thursday, Oct. 3, the Rosamond Gifford Zoo will host, "Twilight at the Zoo Special Edition: A Life in the Wild with Jim Fowler." The evening lecture begins at 6:30 p.m., and is sponsored by Mutual of Omaha.

In a world where the drums of war seem to beat louder every day, peace seems like a far-off dream. But at Long Branch Elementary in Liverpool, students made it clear it's a dream worth reaching for. Students observed International Day of Peace Monday, Sept. 23 (the actual date was Saturday, Sept. 21), by planting hundreds of pinwheels on the school's front lawn in the shape of a giant peace sign as part of Pinwheels for Peace, an international art installation project started by two art teachers in Florida. The LBE project was guided by art teacher Jennifer Matott, who learned about the effort from its website, pinwheelsforpeace.com.

The DSA of CNY offers a number of activities for families of those with Down syndrome, but its biggest event — and the only one it offers that's open to the entire community — is the Buddy Walk, which celebrates its 15th year this fall. "At our Buddy Walk, we do not focus on the therapies, doctor appointments, etc., that is a part of their daily life. We celebrate the joy of having them in our lives and family," Bottego said. "Most of the committee members have worked on the Buddy Walk from the beginning. We have volunteers who come back year after year because it such an uplifting event." The Buddy Walk will take place on Sunday, Sept. 29 at Long Branch Park in Liverpool. Registration starts at 9:30 a.m.; walkers who have pre-registered can pick up their preordered shirts. Walk-in registration is also available. T-shirts are available to purchase. Children's games are open from 9:30 a.m. to 2 p.m. and only shut down while the walk is in progress. Attendees can purchase raffle tickets The walk starts at 10:30 a.m. The walkers follow the path out of the Longbranch Park area into the Willow Bay section of Onondaga Lake Park.
Lauren Dodge knows all too well the pain of losing someone to suicide. "I got involved with [Stand Against Suicide] because of the friends that I lost to suicide growing up," said Dodge, who lives in Liverpool. "I not only felt the direct heartbreak of losing a friend, but I also saw what their families had to go through after losing their child." The worst part was that no one was able to talk about it. "Experiencing the loss of a friend to suicide when it was a 'hush-hush subject' in high school made the loss very difficult to cope with," Dodge said. That's why Dodge became secretary of Stand Against Suicide (SAS), which was founded in 2010 by Tara Dennee in memory of her father, Wayne Olmstead, who died by suicide in 2008. The Elbridge-based organization gained nonprofit status in 2012. It seeks to raise awareness about the risks of mental illness and to encourage those in need to get help. Through a grant from the Pepsi Foundation and local fundraisers, Stand Against Suicide seeks to erase the stigma surrounding the discussion of mental illness and suicide. SAS hosts support group meetings every Tuesday at the Elbridge Community Church for those who have lost a loved one to suicide, for those struggling with depression or other mental illness and their family members and for volunteers looking to help.
Don't mess with Bailey Sherbourne. She's not your average 13-year-old girl. Bailey, of Clay, has been practicing martial arts for 10 years already. She earned her black belt after three years of karate, moved onto Brazilian jiu-jitsu, for which she has seven years under her orange-yellow belt, and began wrestling this past year with the Cicero-North Syracuse High School modified wrestling team as one of two girls out of more than 40 teammates.
According to this year's math and English Language Arts (ELA) tests administered by the state of New York, less than a third of students in grades three through eight are performing at grade level.
As it turned out, Erin Hannagan was one of the lucky ones. Hannagan was 16 when she was diagnosed with Hodgkin's disease May 25, 1993. But she would beat the disease. "I had been coughing for quite some time and had been diagnosed with multiple 'colds,'" Hannagan recalled. "It finally got so bad that my mom took me to an urgent care center where a chest X-ray was done that revealed a large mediastinal [cavity containing the heart, esophagus, trachea, thymus and aorta] mass."