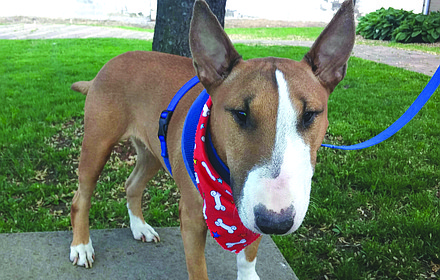 Miss Maizey is a mini-bull terrier. Though small in stature, she's big in personality and will steal your heart.
May 26, 2015
Syracuse Parent stories

John is looking for a home! This handsome boy is an adult, medium-energy pit bull mix. He is a Canine Ambassador and has honorably represented the shelter at many events. He's a fantastic dog — he loves everyone, is good on a leash, great in the car and very gentle with children. He's a shelter favorite, but he's ready to have a home. Once you meet this brindle beauty, you'll see what a special dog he is. Call the CNYSPCA at 454-4479 and ask about John.

About 80 percent of new moms experience the so-called "baby blues" after childbirth, which commonly include mood swings and crying spells that fade quickly. But one in seven women experience symptoms of postpartum depression (PPD).

If you're looking for a dog who's trainable, lovable and eager to please, call the CNYSPCA at 454-4479, and ask about Cleo.

Bud wants to be your new best friend. He's a mystery dog. Is he a terrier mix? A lab mix? Nobody knows for sure.

Fire departments across the state are opening their doors this weekend in an effort to court new volunteers. The Firemen's Association of the State of New York (FASNY) is holding its annual "RecruitNY" initiative April 25 and 26.
The Syracuse Press Club is now accepting applications for the 2015 DeVesty-Williams Scholarship. This $2,000 scholarship will be given to one full-time undergraduate student, who is studying print, broadcast or digital journalism at a college or university in the Syracuse Press Club service area. The application deadline is Wednesday, March 25, 2015.
Affordable child care is the subject of a forum scheduled for Friday, Jan. 30, 8 a.m. to 1 p.m. It takes place at the United Way of Central New York, 518 James St., Syracuse.
You're making a pledge to get healthier this New Year. You found your sneakers and dusted off the treadmill you were using as a closet. Your yoga pants are no longer just a fashion choice — they are ready to do actual yoga. Now you've got to find the time in your day — 30 minutes minimum for heart health — to get physically active. The American Heart Association says there are plenty of easy, no-cost ways to do it.
Placing a child for adoption is heartbreaking, but sometimes the best choice for the child
Carrie Howard was thrilled when she found out she was pregnant. "I always wanted to be a mom," Howard said. "I was living with my boyfriend and his family. I was 20 years old and was very excited when I found out." But things quickly went downhill. "My boyfriend didn't want to be a father," Howard said. "I ended up having to move out and back in with family. My family was supportive, but they were unwilling to have a newborn in the home. I found myself at a crossroads where I had no job, no home, no license or car, not really anything to offer a child." So Howard, a Liverpool native, decided to place her unborn child for adoption.
Starting Friday, Nov. 14, Central New Yorkers can visit Onondaga Lake Park and take in one of the biggest light shows in the Northeast. Lights on the Lake kicks off its 25th anniversary season next week. The event draws somewhere around 35,000 cars each year.
Marc Brackett is "trying to build an emotionally intelligent New York." Brackett, director of the Yale Center of Emotional Intelligence, is teaming up with OCM BOCES to host interactive workshops for parents and teachers to learn how to raise emotionally intelligent children — that is, children who can manage their emotions effectively throughout life's ups and downs. Brackett will be holding three "Emotional Intelligence: Why It Matters" workshops next week: one for parents Sept. 30 at Fayetteville-Manlius High School, and two for educators Oct. 1 on the OCM BOCES campus in Liverpool.