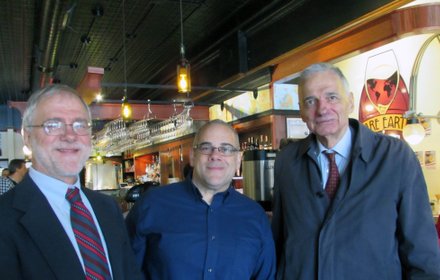 Green Party gubernatorial candidate Howie Hawkins said most New Yorkers are inherently progressive and it's a crime that he's been locked out of the upcoming debates
September 16, 2014
Syracuse Parent stories
The Vietnam Veterans Memorial Fund seeks to locate photos of all those killed during the conflict in Vietnam. So far, organizers have collected nearly 34,000 photos of 58,286 casualties. The photos are being displayed on a virtual "Wall of Faces," which can be found at vvmf.org/Wall-of-Faces.
I need your help to make bail. No, not that kind of bail. I've never been arrested. But I am going to "jail." I've been recruited to help the Muscular Dystrophy Association (MDA) with their annual Lock-Up fundraiser. Such events occur nationwide all year long. Business owners and community leaders (and, apparently, weekly newspaper reporters) agree to be "put behind bars for good." We're asked to raise money from friends, family, co-workers and, in your case, readers to help make "bail," which will then benefit the MDA's research, medical clinics and summer camp experiences.

Heavy rains in Western New York have done significant damage to a camp that provides a respite for kids and young adults touched by cancer. Camp Good Days and Special Times in Branchport experienced more than $160,000 in damages in last week's floods in and around Penn Yan, in Yates County, and that number is expected to climb as workers continue to assess the camp. The damage was so catastrophic that the camp has had to cancel its first sessions of the spring.
Editors at Eagle Newspapers were honored for their work at two recent awards ceremonies that celebrate the best journalism in Central New York and statewide.
Community college students may soon have a harder time finding child care while they go to school. In his 2014-15 executive budget proposal, Gov. Andrew Cuomo proposed cutting $653,000 from the state's operating grant to the State University of New York's child care centers. The cut would come in addition to a reduction in the federal Child Care Block Grant, which subsidizes care for children of needy student-parents. While the New York State Senate restored Cuomo's cut in their budget proposal, advocates say the cuts faced by SUNY centers in the last several years are still devastating and need to be restored. And it's community colleges that will likely see the most damaging consequences.

As controversies over Common Core and mandated standardized tests become more and more prevalent, many parents are choosing a new option in educating their children: homeschooling. Once the sole province of the very religious, homeschooling is becoming more popular every day, with a growth rate of 7 to 15 percent per year. Nationwide, about 2 million children learn at home instead of in a brick-and-mortar school, up from about 1 million in 2003. According to the U.S. Department of Education, about 88 percent of U.S. homeschool parents express concern about the school environment, citing drugs, negative peer pressure and general safety.
The 2014 DeVesty-Williams Scholarship will be awarded in early May by members of the Syracuse Press Club at its annual awards banquet. This $2,000 scholarship will be given to one full-time undergraduate student, who is majoring in print or broadcast journalism at a college/university in the Syracuse Press Club service area. The student scholarship recipient also must be a permanent resident of one of the following counties: Onondaga, Madison, Cortland, Cayuga, Oswego, Jefferson, St. Lawrence, Lewis, Herkimer, Oneida, Otsego, Delaware, Chenango, Broome, Tioga, Chemung, Tompkins, Wayne, Seneca, Schuyler and Yates. A student's college residence is not considered a permanent residence. All students who fit the above criteria are encouraged to apply.

Running a 10-mile race is a tremendous challenge. But if you've got the right motivation, those 10 miles can feel like nothing at all. That's the idea behind Team Believe, a grassroots organization that brings together local runners to help the Central New York community. The group, which got its start in 2009, asks participants to help raise money for local children's charities while training for the Dunn Tire Mountain Goat Run in Syracuse in May.

School districts in Central New York and beyond are in trouble, and it's time we do something about it. That's the message behind a pair of forums to be held Feb. 4 and 5 in Auburn and North Syracuse by the Central New York School Boards Association (CNY SBA) in conjunction with the Onondaga-Cortland-Madison, Cayuga-Onondaga, Tompkins-Seneca-Tioga and Oswego County BOCES. The forums, which will take place at Auburn West Middle School and North Syracuse Junior High School, respectively, will focus on the major factors causing those financial issues and how school administrators, teachers and community members can make a difference.
Friends of Mount Poke-O-Moonshine have started a fund raiser called, "Sum(m)it Up for Poke-O," focused on making needed repairs and renovations to the Ranger Trail, a steep, one mile path leading to the top of the mountain located in the Taylor Pond Wild Forest area.
It is that time of year again — time to "set New Year's resolutions," "get in shape," "work on the waist line," "go on a diet," "start fresh," whatever you want to call it, most people feel the need to reevaluate their habits in January after all the holiday hoopla is over. Usually diet and exercise habits rank high on the list of "needs improvement." On Jan. 1 (or maybe Jan. 2), the "hard core dieters" and the "gung-ho gym members" begin their quest. They sweat, grunt, groan, "give up carbs" and step on the scale every day. A month later, most of them find themselves exhausted, sore, injured, hungry, deprived, miserable and frustrated (maybe even a few other adjectives). They may or may not be in better shape or weigh less. If you plan on trying this approach, please reconsider. If you want long lasting success and really want to feel better emotionally and physically, please try this approach…