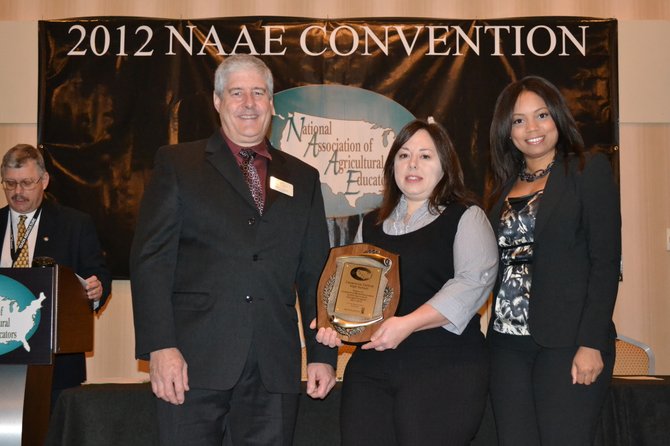 Cazenovia — Cazenovia High School's Agricultural Education Program was recently named as one of only six agricultural education programs nationwide to receive the National Association of Agricultural Educators Outstanding Middle/Secondary Agricultural Education Program Award. The designation was given to the school on Nov. 28, during the NAAE annual convention in Atlanta.
Mandi Millen, the agriculture teacher at Cazenovia High School, was on hand to accept the award last month. With 128 students in her program, Millen teaches 14 courses in the areas of agricultural science, animal science and agricultural mechanics.
"Every student is capable of learning and as teachers we are not only responsible for the specific content we teach but also the many life lessons and growth that comes along with that," Millen said. "We believe that a strong agriculture program is a well-balanced agriculture program."
Catering to the large equine industry in the area, Millen focuses on the anatomy, physiology and overall management of horses in her equine science course, and calls on equine experts to enhance and solidify students' knowledge.
In Millen's veterinary forensics unit, students learn to process evidence when animals are involved in crimes. At the end of the unit, students process a staged animal crime scene and develop theories to solve the crime. Learning about blood cells, skeletal structure and footprint identification prepare them for this exercise.
For Millen's advanced students, biotechnology, conservation and natural resources can be taken for college credit through Tompkins County Community College. Pipetmen donated two refurbished micro-pipets and Ward's Natural Science donated a gel electrophoresis tray set-up to be used in the biotechnology class. This allows students to take a hands-on approach to genetics versus simply looking at pictures.
"The successful Future Farmers of America [program] provides a multitude of leadership opportunities, competitions, travel opportunities and more," said Jan Held Woodworth, parent of agriscience students and member of the Cazenovia Board of Education. "All of this continues to grow at a time when many other organizations are struggling to keep students active."

(Continued on Next Page)
Prev Next
Vote on this Story by clicking on the Icon