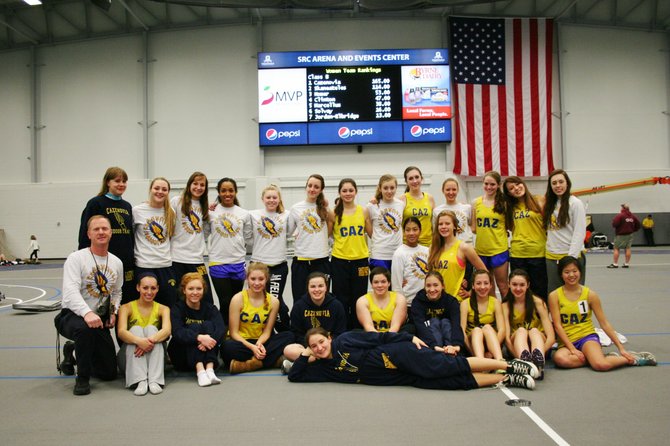 Cazenovia — The Cazenovia girls indoor track team is gearing up to replicate the most successful season in program history, which they achieved last year. The 2011-12 Lakers were undefeated through ten multi-school meets, earning a combined record of 117-0 as they won their second consecutive OHSL and Section III titles.
The 2012-13 squad is even deeper than last year's, with a total of 52 student athletes on the roster. School record-holders Ashley Winn (sprints) and Jeanette Cudney (distance) along with senior leaders Margaret Wolsey and Emily Willard were recently elected Captains.
While their focus has been on training, the Lakers also hope to sport a new look for the upcoming season by replacing their 13-year-old uniforms.

To help preserve school district funds for more essential needs such as maintaining programs, the girls have been raising money for the cause. They conducted a successful bake sale at the Christmas Walk and have organized two more venues to seek community support this week.
The girls will be offering free gift wrapping for those taking the opportunity to shop locally during Men's Night Out on Thursday, Dec. 13. The Lakers will have a table set up at the Lincklaen House and will gratefully accept any donations in exchange for their assistance with wrapping.
The girls have also set up an account at CazCans on Route 20 East and are encouraging friends and supporters of the team to donate their returnable can and bottle proceeds to help with the campaign.
The Lady Lakers will contest their first meet of the season at Colgate beginning at 4:30 p.m. on Thursday, Dec. 20 as they pursue their fourth consecutive Mohawk Valley Indoor Track Association championship.
Kurt Wheeler coaches the Cazenovia girls indoor track team. He can be reached at 655-1314 or kwheeler@post.harvard.edu.
Vote on this Story by clicking on the Icon