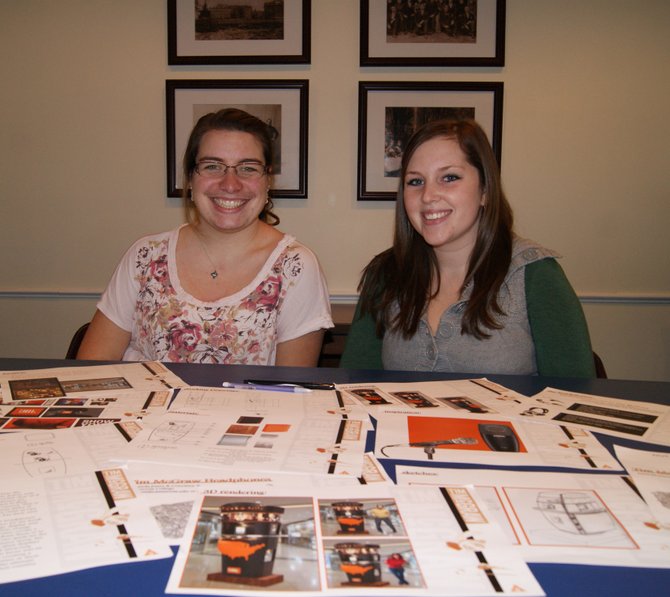 Cazenovia — Out of more than 200 entries from 10 countries, two students in Cazenovia College's Interior Design Program have placed in the top 12 of the 2012-13 PAVE the Way 3D Design Challenge. Amanda Jones, of Granville, and Courtney Wallach, of Binghamton, collaborated on the design of a free-standing kiosk to display and market a brand of headphones.
The competition sponsor, Van Stry Design, a display fixture company in Massachusetts, will build prototypes of the finalists' kiosks, which will be judged at GlobalShop, an international retailer's conference to be held in Chicago in April, 2013. Jones and Wallach hope to attend the conference to hear first-hand the results of the judging.
Both students are seniors, set to graduate in May. They have collaborated on several projects during their years as design students. Wallach says
"Amanda is the creative one, I handle the technical details," Wallach said.
"My mom thinks we should go into business together," Jones said.
For this project, to "design and create a 3D model or rendering of a store fixture that communicates an existing brand of headphones," the pair spent a long time coming up with the concept for the kiosk. The pair chose JBL Tim McGraw Artist Series headphones, and based the concept on their shard love of country music.
"We began to brainstorm about all the things 'country' means to us," Jones said. "We're both country girls, and the Artist Series slogan, 'show your country,' is meant to evoke all the aspects of 'country.' To us it meant a whole range of ideas — home — where we come from, to the idea of patriotism. And finally, the inspiration for the shape of the kiosk came from an image we saw of a microphone."
Professor Josef Ritter, who teaches in Cazenovia College's Interior Design Program, said, "This is one of three projects I assigned in my retail and exhibition class. In addition to internships, this kind of competition is an excellent way to measure the quality and depth of programs similar to ours in the United States and around the world. Needless to say, we are proud to add this 3D Challenge achievement to a growing list of awards the program has garnered. Having students' design produced and presented at an international conference like 'GlobalShop' provides an excellent opportunity for the program to engage students in the real world of interior design."
(Continued on Next Page)
Prev Next
Vote on this Story by clicking on the Icon