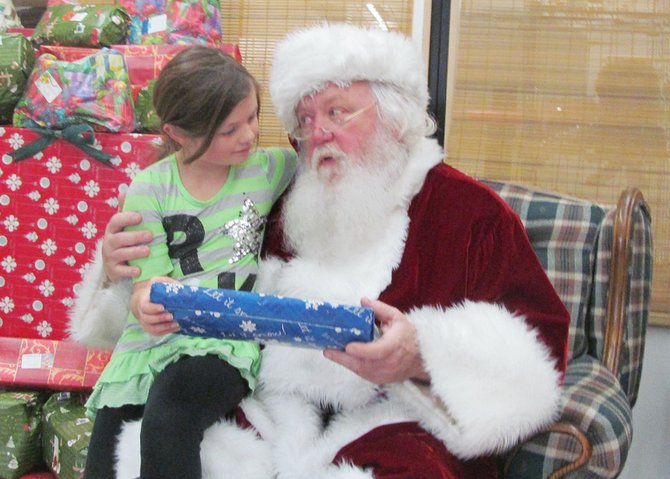 Baldwinsville — Nearly 40 children received a little Christmas early last Thursday when Santa Claus stopped by PEACE Inc.
Every year, the big guy visits County West Family Resource Center at 93 Syracuse St. in Baldwinsville to distribute toys to the children of PEACE. His appearance is the apex to a weeklong Holiday Shop, Wrap and Roll event in which families are able to shop for eligible members at the center, picking out two gifts per person including themselves. This year's event took place Dec. 10 to 14.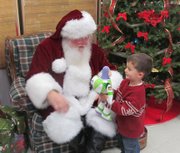 "This event has been a great success each year," said Joanne Wynings, PEACE's interim coordinator. "The money for the gifts comes from fundraising events, local churches and community members who generously give to the center year round."
Participants enjoyed holiday cookies and refreshments while Santa spent the afternoon talking about the Christmas holiday and passing out gifts to the children. And, of course, he allowed each willing child to sit on his lap to tell him whether they had been good all year and what they would like to find under their Christmas tree.
"Santa answers any questions the children may have and reaffirms any doubts as well. He has certainly made believers out of many children, including my own," Wynings said.
When asked how long it takes him to arrive to his destination from the North Pole, Santa said it varies from day to day. He then talked about his busy days during the holiday season and how some days he is booked from early morning until late at night. But it's all for a great cause – good little boys and girls.
"Santa couldn't do all of this if it wasn't for Mrs. Claus," Santa added about his wife who takes care of all of his appearances and visits.
Santa also wanted to assure children that if a family moves, Mrs. Claus gets a note from the post office and is able to program the new address into his GPS so that Santa doesn't miss anyone. It also allows Santa to be home in time for breakfast on Christmas morning.
"Santa's visit has a huge impact on our families," Wynings said. "Most importantly, I ask Santa to visit the County West Family Resource Center because there is only a short time in our lives where the magic really comes to life. I want one of those moments to be with us, and with Santa."
Vote on this Story by clicking on the Icon