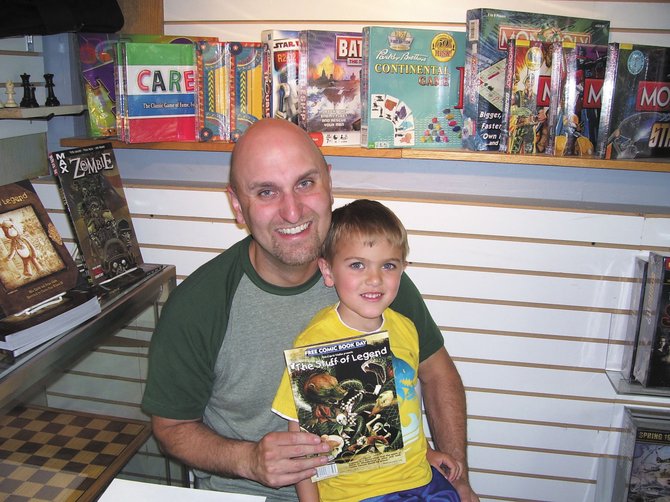 Marcellus — The takeoff of Mike Raicht's writing career is the epitome an oddly-propelled Cinderella story.
Raicht navigated his way through the maze that is professional writing, dabbling in journalism as an intern at Eagle Newspapers before interning at Marvel and finally finding his niche in the word of comics. Raicht is the author of the successful series The Stuff of Legend, which made the New York Times bestseller list in 2010.
In his Marcellus home, he is known as a loving father and husband. At Le Moyne College, he is recognized as an English professor. However, Raicht barely lets the normalcy of daily life water down his admittedly offbeat way of thinking.
"I have horrible thoughts, but they all seem to work together," Raicht said. His primary idea for The Stuff of Legend came from his son, who turns 7 this February. "I saw Austin, and thought, who's protecting him at night? Are toys protecting him? And who would go after him if the boogeyman got him?"
When Austin was confined to a crib, his parents placed a large teddy bear above him. This bear would serve as the primary inspiration for the graphic novel.
"The way it was slumped, it just looked like it was ready. It had the perfect angle on the room, it had all the stuff, it was right there to do what it needed to do to make sure he'd be OK," Raicht said. "That's where it came from."
In The Stuff of Legend, the toy transforms into its Grizzly equivalent, even growing teeth, in order to save the stolen child.
Raicht's intention with his graphic novel work is to surpass the average cartoon in its emotional reach.
"I think a lot of stories that come out now, especially a lot of cartoons, they don't hit those buttons anymore like they did when I was younger," he said. "Sometimes they are a little too sanitized, and I wanted to do something where there are scary moments, there are sad moments, but there's also great and funny moments."
(Continued on Next Page)
Prev Next
Vote on this Story by clicking on the Icon