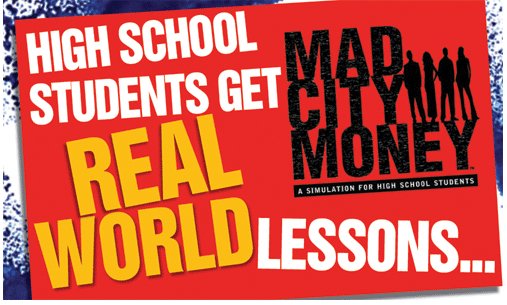 Cazenovia — Focal Point Federal Credit Union and Cazenovia High School are teaming up to give Cazenovia teens a taste of the real world for the second year in a row.
From 9 a.m. until 1 p.m. on Friday, Jan. 11, students in business classes will gather in the gymnasium to be temporarily transported into their future lives in "Mad City" a simulated town with "merchants" staffed by volunteers from real local businesses.
Students will be given packets that tell them about their lives complete with: occupation, salary, spouse and/or children, student loan debt, credit card debt, medical insurance payments.
The challenge is to visit merchants to select housing, transportation, food, household necessities, clothing, day care and other wants and needs while maintaining a budget and saving for the future.
Students will write checks for their purchases, and must balance both their checkbooks and their budgets. Focal Point Federal Credit Union has an "office" in Mad City and offers financial budgeting guidance to struggling participants.
From 9 to 9:30 a.m. Focal Point Federal Credit Union representatives will welcome students and outline the event, then participants will choose their respective occupations. From 9:30 to 11:30 a.m. the simulation will begin and students will create budgets and visit merchants.
A facilitated student-debrief will take place from 11:30 to noon, and Thomas Dellwo, of Focal Point Federal Credit Union, will deliver the closing statements from noon to 12:30 p.m.
Following the conclusion, students will give evaluations of the event, examine their own results and make judgements on their current and future financial situations.
For more information on Focal Point Federal Credit Union, visit focalpointfcu.com.
To learn more about the Mad City simulation, visit cuna.org/products-services/detail.php?sku=27732
Vote on this Story by clicking on the Icon
More like this story