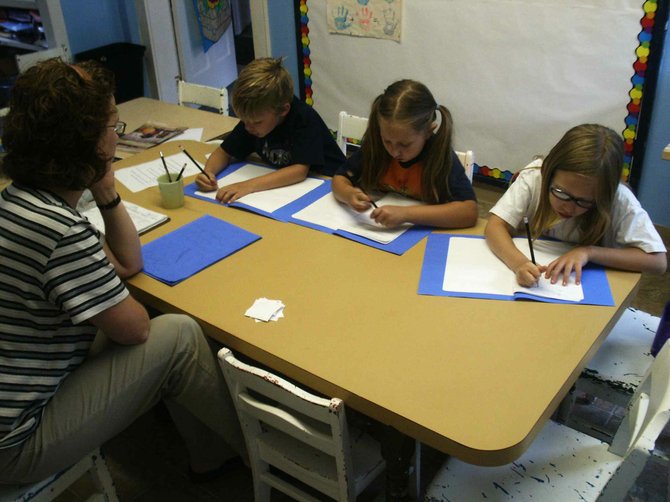 A new kind of afterschool experience is the vision of Cazenovia Community Preschool's enrichment program for children in grades K-4, which will begin fall 2012. The program will focus on art, music, foreign language and will also include tutoring.
"CCP has always had a strong focus on learning through creativity and this is one of the things that makes our school special," said Stefanie Lints, vice chairperson for Cazenovia Community Preschool Board of Directors. The school will build on this foundation and help children continue to explore the arts as they attend elementary school. "Parents can drive 30 minutes for an art or music class. We will now have quality enrichment experiences for children in grades K-4 right in the village of Cazenovia."
The program will run for three hours two days a week after school is dismissed. Children can be bussed to the school which is on the corner of Lincklaen and Nickerson streets. Children will be able to play outside, have snack and socialize, in addition to the time spent in enrichment activities.
The program may also be a good fit for homeschooling families who want to enhance their children's education in the area of art, music and foreign language.
As with all of CCP programs, the presence of certified teachers is an important component. The plan is to have a limit of 12 students, in order to have individualized instruction and attention.
Tutoring and homework help can be essential for children in grades K-4 in order to build good homework skills and to assist students to reach their full potential.
CCP will be working with Cazenovia College to identify work study students to help with tutoring as well as education and art students who may want to do internship placements as part of the program.
"This is an exciting opportunity for CCP and for the community. Parents now have an option for afterschool enrichment and this can be an attractive alternative to babysitting or recreation-based programs," said CCP Director Torrey Lansing.
CCP's mission is to provide a well-rounded and nurturing learning experience for children of Cazenovia and surrounding areas, with the goal of supporting the full development of each child's potential. The program's curriculum emphasizes cognitive, social, physical, emotional and creative development.

For more information about the afterschool enrichment program, visit the CCP website at cazenoviacommunitypreschool.com, or contact Director Torrey Lansing at 655-4259 and torrey.lansing@yahoo.com.
Christine Tyrrell Baker is a member of the Cazenovia Community Preschool Board of Directors. She can be reached at ctyrrell1@frontiernet.net.
Vote on this Story by clicking on the Icon