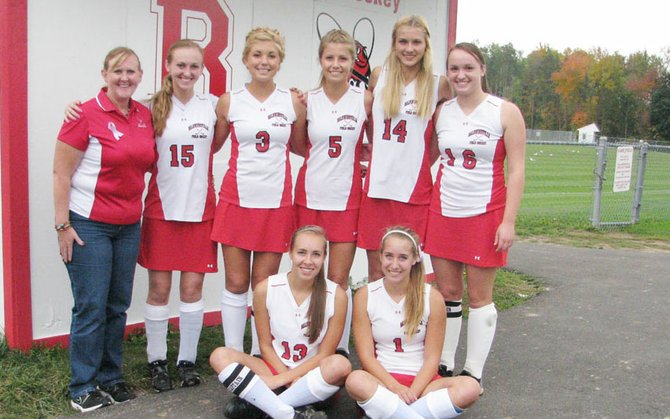 Baldwinsville — When the girls of Baldwinsville's field hockey teams head out to play, they've got each other's backs.
For some of those on the team, they also share a bit of DNA.
This year's varsity and junior varsity teams were joined by three sets of sisters, a set of cousins and a mom-daughter duo — the team's own varsity head coach Sue Farrell and goalie Lindsay Farrell, a senior.
"The family ties are what bind us. I have never seen any arguing or feuding," Sue said.
Sisters include senior Mallory Porch and junior Mackenzie Porch; senior Nicole Piontkowski and sophomore Danielle Piontkowski; senior Marissa Hovey and freshman Allison Hovey; cousins are Kayla Dubiel, a senior, and Morgan Starczewski, a junior.
"We have two sets of sisters on varsity. These two sets of girls are very competitive and that works in a positive way," Sue said. "They strive to improve and when they go head-to-head it's a knock down drag out to see who gets the ball."
Regardless of who's in possession of the ball, the girls have an emotional bond that goes beyond the game and the field at school.
Though Sue began volunteering with the Baldwinsville program in 1999, field hockey has been part of the coach's life since she was in high school playing for East Syracuse-Minoa. However, being a parent who is also a head coach can be far more challenging than her previous experience.
For Sue and Lindsay, ground rules needed to be set and adhered to, Sue said.
"We talk on the way home from practice or a game and after that I'm just Mom. When I was the assistant, I didn't really deal with the goalies, but now I have to," she said. "I can be very critical of her, but she puts a lot of pressure on herself. She has always had high expectations."
(Continued on Next Page)
Prev Next
Vote on this Story by clicking on the Icon