Baldwinsville — Gwendolyn Parks was named the Baldwinsville Optimist Club's Student of the Month for October.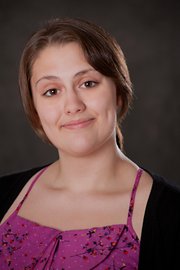 A senior at Baker High School, Gwen has distinguished herself academically by taking five years of French and is currently taking advanced placement psychology, advanced trigonometry, contemporary literature and college physics in pursuit of an advanced Regents Diploma. She has been on the academic honor roll most of her high school career and occasionally on high honor roll.
She plays the viola in the Baldwinsville Central School District Orchestra and in the Baldwinsville Jazz Strings Group.
Gwen has also distinguished herself beyond her school activities in her community. She has been a student of Judo since fifth grade and currently holds the rank of blue belt, one level below the black belt rank, at the Tai Kai Martial Arts Studio.
She has proven her leadership skills and abilities through her Girl Scout achievements. She is currently completing her Gold Award Project, which was to build a boathouse and storage shed on the campus of SUNY Brockport for the Camp Abilities Summer Program for visually impaired students. She earned her
Bronze Award with a project centered on collecting school supplies for P.E.A.C.E. Inc., and her silver award by starting up an annual girl scout encampment at Lions Park. She is currently a member of the Girls Advisory Board of the Girl Scouts and a representative to the NYPENN Board of Directors of the New York/Pennsylvania Girl Scout Council. She is also a current member of the Girl Scout Media Team in which she is interviewed on radio (WSEN) and television (Bridge Street) programs promoting the Girl Scouts to young girls.
Gwen became involved in the Camp Abilities Summer Program for Visually Impaired Students as a result of having visually impaired family members, and she has been a summer counselor at the one-week summer camp at Brockport for the past two years. In addition to building the boathouse/storage building for the summer camp organization she has also participated in planning for future summer camp activities.
During this 100th year anniversary of the formation of the Girl Scouts, Gwen was honored along with 99 other women and businesses as a "Woman of Distinction."
Michael and Sheila Parks are Gwen's parents, and she has an older brother.
The Student of the Month Program is a cooperative venture of the Baldwinsville Optimist Club and the Guidance Counselors of Baker High School.
Vote on this Story by clicking on the Icon