Baldwinsville — Austin Smallwood has been selected as its Student of the Month of November by the Baldwinsville Optimist Club.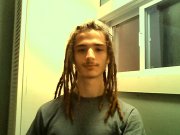 A senior at Baker High School, Austin is currently taking courses in chemistry, participation in government, field biology, physics, economics, living environment (biology), and has been on the Baker high honor roll during both his junior and senior years.
Austin is a member of the Environmental Club and enjoys playing classical drums, bongo drums and the Chinese Dizi (bamboo flute). He has studied German and is currently studying Mandarin.
Austin's outlook on his life is "Love is the passion, philosophy is the choice. I could choose to do neither, and live without a voice." This is a motto he tries to emulate and pass along to others as he is helping people and volunteering in a variety of activities, such as volunteering for P.E.A.C.E. Inc., The Rescue Mission, The Baldwinsville Public Library, teaching German to students at Durgee Junior High School, mentoring kids at Elden Elementary school, walking dogs for neighbors and helping elderly neighbors with daily chores. He has also helped man a hotline designed to help adolescents bothered by suicidal thoughts. He even volunteered to help establish a new store, Rivers of Shashamani.
Mrs. Charisse Pascale, Austin's guidance counselor, commented that he is a young man that she has "been most impressed with since I first met him in his sophomore year."
Austin plans to attend college after graduation with the goal of eventually developing a career as a conservation biologist.
Austin is the son of Colleen Livingston and has two brothers and three sisters.
The Baldwinsville Optimist Club is a not-for-Profit community service club with the motto "Friend of Youth," which helps to enhance peoples' lives in the Baldwinsville area. The Student of the Month project is a cooperative project of the Club with the Guidance Counselors of Baker High School.
Vote on this Story by clicking on the Icon