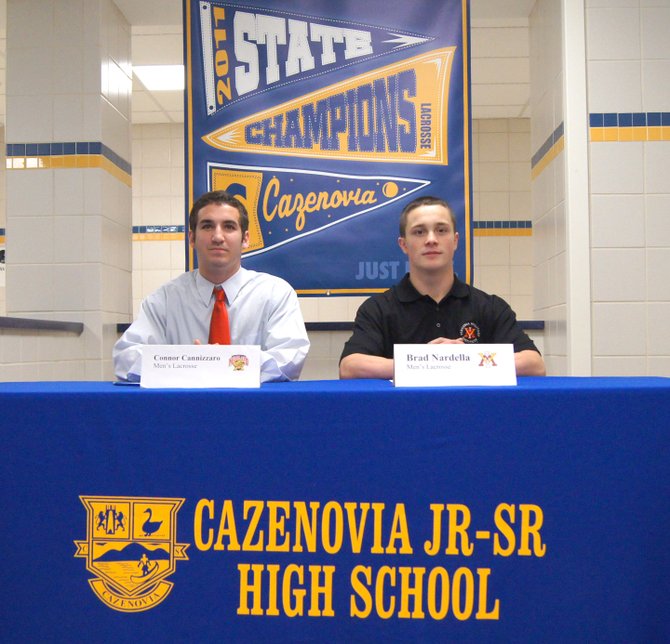 After school on Monday, Nov. 19, two senior students of the Cazenovia Central School District signed official letters of intent to attend college, both as students and athletes, in fall 2013.
Brad Nardella announced he will attend the Virginia Military Institute to study business and economics and play lacrosse for the Keydets. Connor Cannizzaro announced he will attend Maryland University to study government and politics and play lacrosse for the Terrapins. Both students received athletic scholarships.
"I'm feeling excited and ready to go. I'm looking forward to it," Nardella said. "I visited the campus and like it a lot. I hope to play at either an attack or [midfield] position, wherever the coach thinks I'll fit best."
"I'm just really excited to be able to play college lacrosse," Cannizzaro said. "I think I'll either be assigned to play attack or [midfield]. I just expect to work hard and try to do my best."
Athletic Director Michael Byrnes, who coordinated the press conference in the second-floor lobby overlooking Buckley Gymnasium at Cazenovia High School, briefly introduced each athlete before they declared their future plans in front of their fellow students, teachers, family members and district administrators.
"This achievement is reflective of the individuals themselves. They are the ones who put in the work, set the goals and accomplished them," Byrnes said. "They chose to listen to their coaches, parents and teachers, but they also had the ability and motivation to make all this happen. I congratulate them and wish them the best of luck."
Both students are members of the Cazenovia varsity boys lacrosse team, and hope to have a memorable final season playing as Lakers. Nardella said he is eagerly anticipating his senior season, hopes to clinch a championship title and will "probably" miss Cazenovia.
Cannizzaro said a number of veteran and rookie players will make the 2012-13 team strong. "We're going to be a good team this year; it would be great to win another state title. There will be a lot of returning players but there are actually a lot of young players. So it will be a good team for years to come, too," he said.
Both athletes will look to complete a season as players on the Cazenovia varsity ice hockey team this winter before taking the lacrosse field and eventually receiving their high school diplomas in June.
For more information on the CCSD and its athletic department's accomplishments, visit caz.cnyric.org.
Pierce Smith is editor of the Cazenovia Republican. He can be reached at 434-8889 ext. 338 or editor@cazenoviarepublican.com.
Vote on this Story by clicking on the Icon