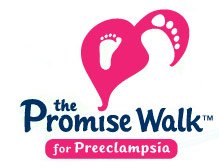 Liverpool — Lorelle Lashway's first pregnancy was relatively normal, relatively healthy — until she hit her 38th week.
"One day my blood pressure was borderline high, so I was sent for testing," Lashway said. "I felt completely healthy. When the results came back the doctors were afraid that I would either start having seizures or have a stroke. Did I mention I felt healthy? This was a complete shock."
At 38 weeks, Lashway, a Liverpool native, was diagnosed with severe preeclampsia, a condition found in about 5 to 8 percent of all pregnancies. It is diagnosed by the elevation of the expectant mother's blood pressure usually after the 20th week of pregnancy combined with the appearance of excessive protein in her urine. Important symptoms that may suggest preeclampsia are headaches, abdominal pain, visual disturbances such as oversensitivity to light, blurred vision, seeing flashing spots or auras, shortness of breath or burning behind the sternum, nausea and vomiting, confusion or heightened state of anxiety, though some women don't experience any physical symptoms at all; they only find out they have it when their doctors test their blood pressure and urine.
Lashway's only symptoms were high blood pressure, excessive amounts of protein in her urine and low platelet counts. In order to protect her and her baby girl, Laelyn, labor was induced immediately, and she was started on a drug called magnesium sulfate to prevent her from seizing.
"I don't remember much about labor and delivery or the days that followed," Lashway said. "All I knew was that I was sick, and Laelyn was in the NICU. Not one medical professional explained what had happened to me or why. No one could explain why I still had very high blood pressure after I had the baby. I was sent home on high blood pressure medication, and told to follow up with my family doctor."
(Continued on Next Page)
Prev Next
Vote on this Story by clicking on the Icon