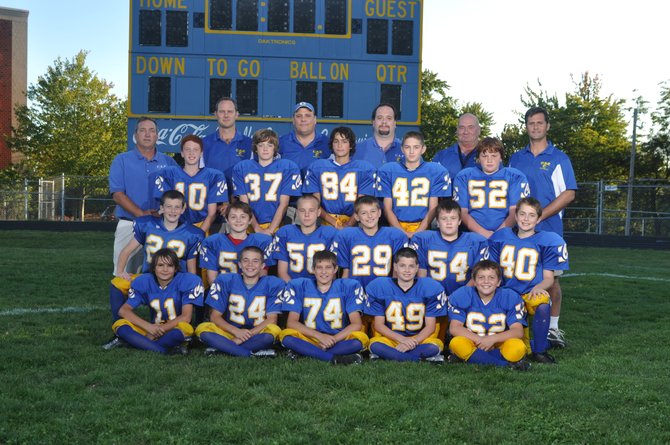 In a game that demonstrated the team's true spirit, the Cazenovia Laker Pop Warner B-Team rallied to beat the previously undefeated North Utica Raiders 26-19 on Oct. 6 to become Pop Warner Pee Wee Division Champions.
On the second play of the game, the talented Raider offense scored on a 60-yard play, and with the extra point, the Raiders quickly gained a 7-0 lead. The Lakers were determined to answer with a score of their own but fumbled the ball back to the Raiders.

The Raiders then quickly capitalized and scored on another big run to go up on the Lakers 13-0 before the end of the first quarter.

Determined to turn the game around, the Laker offense, including Issac Senehi, Andrew Johnson, Ryan Woznaik, Ian Fostveit, James Pavelchek, Chad Carges, Christian Monroe and Logan Proctor took the field.
First down runs by Tiernan Tormey and Jacob Macheda, placed the Lakes in scoring position. A touchdown run by Partrick Nourse put the Lakers on the score board 6-13. After trading touchdowns, the Lakers went into halftime down in spirit and by the score of 19-12.
The Lakers made some adjustments to the defense and came back to start the third quarter confident that they could shut down the Raiders. After receiving the kickoff, the Lakers offense dominated the line and controlled the ball for more than seven minutes. They finished off the drive with another touchdown by Nourse.

Now only down by a score of 18-19, the hard-hitting Laker defense, started to shut down the Raider offense. The Raiders took a pounding and fumbled the ball which was recovered by Ben Knutsen.

The Laker offense was ready and with victory only a point away, they marched the ball down the field putting Matthew McLaughlin into the end zone and the Lakers in the lead 25-19.
With 2:27 minutes left in the game, the Laker defense shut the Raiders down with backfield tackles and a fumble recovery by Monroe. The win secured the Lakers' No. 1 position in playoffs.
Lisa Fostveit is volunteer publicist for Cazenovia Pop Warner Association.
Vote on this Story by clicking on the Icon