Cazenovia — "Going Native," one of the popular Zoo To You programs at the Rosamond Gifford Zoo, will be presented at 6:30 p.m. on Friday, Nov. 2 in the Cazenovia Public Library Community Room.
Join the fun and meet three special New York state friends, including the Box Turtle, the Barred Tiger Salamander and the Eastern Screech Owl.
With an extremely variable color pattern, the Box Turtle is largely characterized by having a domed shell with a hinge at the bottom that allows it to close its shell tightly to escape predators. They have become popular pets but are endangered in many states.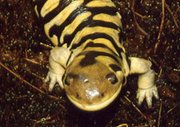 The Barred Tiger Salamander spends most of its adult life living in the burrows of ground squirrels, gophers or badgers. For self-defense, they curl their head and tail up over their backs and display their poison glands as a warning.

They are beneficial to the environment as insect eaters but are endangered in New York state.
The Eastern Screech-Owl, with its mysterious spooky sound and yellow eyes, is no bigger than a pint glass.

These supremely camouflaged birds hide out in nooks and tree crannies through the day but are very active at night, though far more often heard than seen.
Sponsored by the Friends of the Library, "Going Native" is free and open to the public.
Residents are encouraged not to miss out on the opportunity to meet — or to reintroduce themselves — to these interesting animals while enjoying the unique interactive learning experience that is a trademark of the Zoo To You program.
For more information, call the Cazenovia Public Library at 655-9322 or visit cazenoviapubliclibrary.org. Information is also available at rosamondgiffordzoo.org.
Vote on this Story by clicking on the Icon