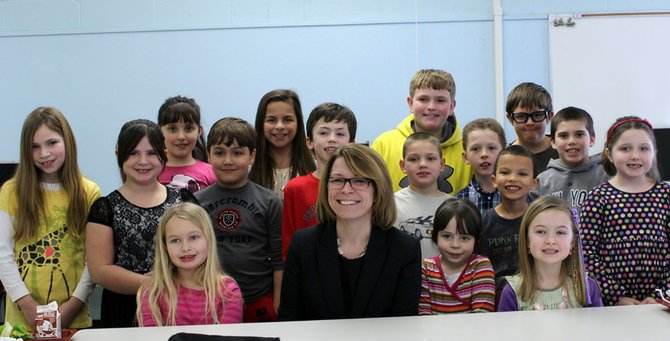 Baldwinsville — Principal Michelle Crisafulli launched a monthly student leadership lunch at Van Buren Elementary School in January. The lunch serves a dual purpose – to recognize students for their non-academic achievements and roles as classroom leaders and to provide her with more quality time with Van Buren's students.
Prior to taking the helm of Van Buren in 2011, Crisafulli taught first, second and third grade in the district for 17 years and was an assistant principal at Baker High School. Her administrative duties as Van Buren's principal do not give her as much time as she would like for the type of one-on-one interaction she enjoyed with students when she was teaching. The leadership lunch gives her time to sit down with a student from each classroom in first through fifth grades to talk with them about their achievements and roles as student leaders.
Crisafulli also uses the lunch to pick students' brains about ways to improve Van Buren's overall learning experience.
"I want students to have a voice in the school," Crisafulli said.
At the first lunch, Crisafulli solicited student input on what they like about the school and what they do not like or want to see changed. Sixteen students provided her with feedback on topics including school meals and extracurricular opportunities. She will take those opinions as well as input from other student leaders throughout the school year to tweak and modify aspects of the learning environment in order to enhance Van Buren's overall educational experience.
Every month, each teacher in first through fifth grade will choose a student leader from his or her classroom based on the student's proven leadership qualities including service to others, respect for classmates and staff, being a role model for other students and exhibiting a positive attitude toward learning.
Van Buren's student leaders for January were Gabby Brookins, Sabine Denkenberger, Sydney Wolfe, Garrett Sutton, Ethan Ryder, Jared Majchrzak, Christina Addison, Harrison Meyers, Dean Welch, Kelsey Natoli, Tristan Miranda, Declan Connery, Madison Olney, Nina Fichera, David Hildreth, and Jillian Doucette.
Vote on this Story by clicking on the Icon